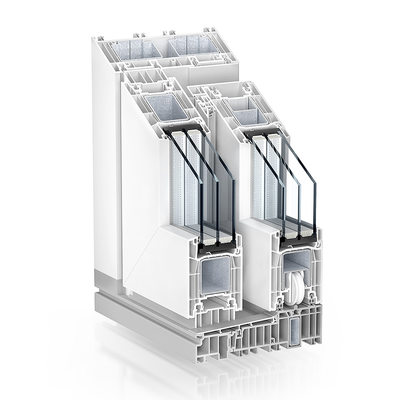 KÖMMERLING PremiDoor 76 – STANDARD
Achieve your dream of bright living spaces flooded with light with the innovative PremiDoor 76 lift/sliding door system. This system can be manufactured with a width of up to 6.50 metres and a height of up to 2.60 metres. Be it a green garden, stunning mountain range or urban skyline with the PremiDoor 76 you can bring the outside world into your living surroundings thanks to the extensive glazed areas. This modern, barrier-free system is further enhanced by its excellent handling ease and thermal insulation. Whether you're dealing with a new build or renovation: The PremiDoor 76 lift/sliding door system offers you the perfect solution.
Due to the consistent five chamber design and small construction depth of 179 mm, PremiDoor 76 is ideal for renovations. Glazing is possible up to a thickness of 50 mm. A high passage of light is ensured by the slender sight lines – 65 mm at the casement, 100 mm at the sash, and 103 mm at the centre fastener. Even the standard version of this system possesses an average Uf value of 1.4 W/(m²K), among the best of its kind for lift/sliding doors. The standard range also includes a fully accessible threshold system. The system has been designed as a simple, cost effective solution for your security needs with a resistance class up to RC2.
PremiDoor 76 is available in white, woodgrain laminates, or plain or metallic colours – laminated on the outside and white on the inside, or laminated on both sides.
This system is also a sustainable option – The KÖMMERLING brand is the first key producer in the world to manufacture profiles not only with regrinds in virgin window uPVC, but also exclusively with lead-free PVC with "green" stabilisers based on calcium and zinc. This guarantees that those who use these products are also working to protect the environment.
Features & Benefits
PremiDoor 76 – innovative lift/sliding door system with 76 mm construction depth
Fully accessible thresholds realised in conformance with standards
Maximum element size of 6.50 m width × 2.60 m height for white elements
Average heat transfer coefficient Uf value = 1.4 W/(m²K)
Unique sealing system with high-volume central seal in the centre fastener
Extremely slender play of lines with a sash width of only 100 mm
Ease of handling when opening and closing
Design options in classic PVC white and in wood grain, plain and metallic colour laminates
All uPVC profiles are produced with lead free stabilisers based on calcium and zinc