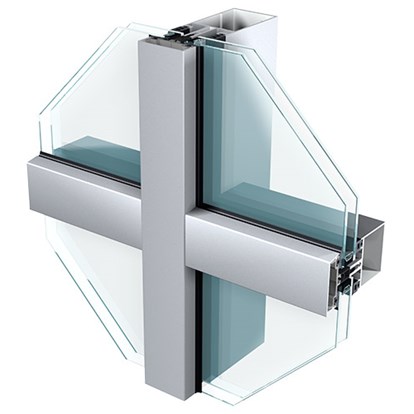 SAPA Elegance 52 – Curtain Walling
Conceived more than 25 years ago, the Elegance 52 is a comprehensive curtain wall system that offers a sloped glazing option to create stunning roof structures for commercial projects. This highly versatile system combines technology and design with the demands of contemporary building design and construction.
All Elegance 52 systems use a common substructure with a width of 52 mm, allowing a slim sightline whilst maintaining the necessary strength requirements for most applications. Weather performance, thermal insulation, building connection, ease of fabrication and installation are the key factors that influence the design of Elegance 52.
---
Elegance 52 is available in a number of variants, each providing unique design features:
Elegance 52 ST – Standard
Elegance 52 HL – Horizontal Lining
Elegance 52 SGV – Structural Glazed Vent
Elegance 52 SG – Structural Glazed Frame
Elegance 52 GF – Glazed Frame
Elegance 52 SX – Structural Glazing
Large Sizes
24mm, 28mm or 32mm glazing size as standard
Drained and ventilated glazing
Diversity of Applications
The system can be self-supporting or used in combination with a supporting structure
The Elegance 52 ST is able to accept tolerances and movements from thermal expansion, without sacrificing the weather performance
Diversity of Forms
Wide range of decorative cover caps providing design freedom
Cover caps can be combined to design visually interesting glazing
Mullions and transoms can be flush internally or different to complement the entire building design
Features & Benefits
Can be used in vertical, sloped or roof applications
Weather performance tested to CWCT standards
Extensive range of cover caps to create an endless array of external appearances
Easy to fabricate and install
High impact, colourfast and lead-free, ensuring it is better for the environment
Slim frame design with extra thermal insulation
Wide range of finishes with over 400 colours available