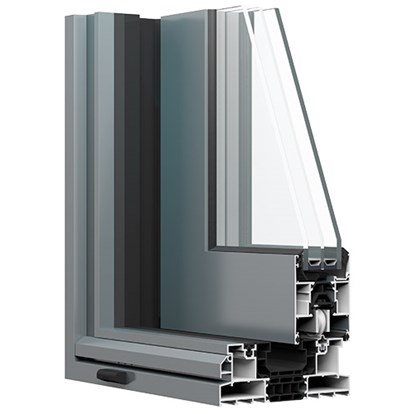 SAPA C160 Smart Line Slide & Lift-Slide System
Confort Smartline is an optimised, high performing, thermally insulated sliding door with a slim sightline. The system combines this highly attractive aesthetic line with remarkable energy efficiency with U values as low as 0.76 W/m2 k. The sliding door belongs to an entirely new generation of sliding systems thanks to technical innovation and well-considered design.
Confort Smartline profiles are coupled with 50 mm glass fibre reinforced polyamide strips, which reduce thermal conduction. These polyamide strips are specially designed in order to improve the thermal values, without adding extra internal inserts in the profiles. The bigger cavities between profiles are insulated with customised PE strips. The result is that Confort Smartline achieves a high thermal performance level and improved total insulation, leading to lower total energy consumption and a reduced environmental impact.
The confort smartline is available in a wide range of options including:
Slide and lift-slide version
Larger glazed surfaces
No additional profile for central sealing gasket
Sliding vent on the inside or on the outside
Equal sized profiles for slide and lift-slide
Optimised fabrication by use of clip connections, straight cuts, special end-pieces to a large extent
Multipoint locking
3 vents beside each other
2/3 of the windows can be opened
Same insulation pieces and sealing profiles
Slim interlock of 36mm
Available for slide and lift-slide versions
Large Sizes
Accommodates glazing sizes up to 53mm
Glazed areas up to 2.8m in height
Diversity of Applications
Confort Smartline Monorail
Confort Smartline 2-rail
Confort Smartline straight cut / 2-rail
Confort Smartline fix-sliding-fix solution
Diversity of Forms
Frame allows the floor finishes to be flush with the inner frame
400 powder-coated paint colours in matt, gloss or satin
Bi-colour finishes available
Stylish and function handle options complete the high standard finish
High Performance
Wind Resistance – 1800 Pa
Features & Benefits
Over 400 powder coated paint colours in matt, gloss or satin
Textured and textured metallic ranges are available
The combination of multipoint locking, safety glass and special hardware ensures a high resistance against forced entry
All profiles are easily cleaned and Aluminium does not rust, rot or tear and the shape will not deform
Easy to manufacture and install