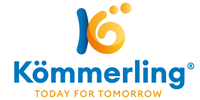 Kömmerling: The premium brand with a global reputation that stands for unconditional quality and trust – with more than one hundred years of experience.
The company that was founded by Karl Kömmerling in 1897, now constitutes a strong brand of profine and the products are delivered to around 50 countries worldwide.
In the area of PVC sheets, Kömmerling is one of the global leading brands.
Kömmerling enjoys an excellent reputation for its high quality and advanced technologies and it set itself the goal of producing window and door profiles for premium demands.
For this purpose, as well as the aesthetic aspects, it also includes technical and physical performance values and an extremely long durability requiring only a minimum of care and maintenance costs for windows and all other products.
Kömmerling strives for a sustainable and growth-oriented development. The customer is the focus.
Kömmerling is characterised by quality thinking, innovative strength, efficient processes and responsibility. The pursuit of excellence in all areas is the driving force. Their close partnership with their customers is the foundation of their success.
Kömmerling is the long-established brand of the Profine Group and it looks back on a long success story.