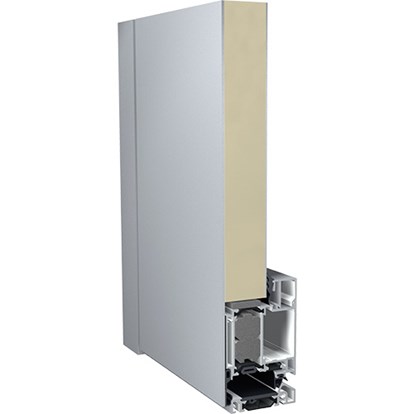 SAPA Avantis 75
The SAPA Avantis 75 is a thermally broken three-chamber window and door system, which sets the highest standards of thermal insulation and stability.
Avantis 75 – Doors
Avantis 75 door profiles have 3 chambers, coupled with 40 mm tubular shaped, glass fibre reinforced polyamide strips, which drastically reduce thermal conduction. The result is that the Avantis 75 doors achieve an extremely high thermal performance level and improved total insulation, leading to lower total energy consumption, a positive benefit to the environment.
The Avantis 75 system is available in four modular thermal values, to meet the specific requirements of the construction. The system includes several weather barriers by means of specially designed gaskets, a large decompression chamber and internal drainage to assure perfect weather resistance.
The combination of safety glass and special hardware such as multipoint locking ensures a high resistance against forced entry. The Avantis 75 possesses inward opening vents which have a co-extrusion central gasket for enhanced thermal and acoustic performance. All standard shade and ventilation systems can easily be integrated in Avantis 75 making it the ideal solution when high performance and quality are major requirements.
Large Sizes
Glazing up to 60mm for the frame and 70mm for the sash
Infill thickness starting at 7mm for the sash
Diversity of Applications
Effective water drainage via punched drain holes
Acoustic performance is drastically enhanced with multiple gaskets
Diversity of Forms
Concealed drainage remove the need for covers
Wide selection of accessories
Designer glazing beads add more design options
High Performance
Air permeability – 600 Pa
Water resistance – 1200 Pa
Wind resistance – 2000 Pa
Features & Benefits
With over 400 powder coated paint colours in matt, gloss or satin
Textured and textured metallic ranges are available
The combination of safety glass and special hardware such as multipoint locking ensures a high resistance against forced entry
All profiles are easily cleaned and aluminium does not rust, rot or tear and the shape will not deform
Aluminium is a "green" product: it can be recycled